DALLAS —  Kevin Durant scored a career-high 52-points Friday night in the Oklahoma City Thunder's 117-114 overtime win over the Dallas Mavericks.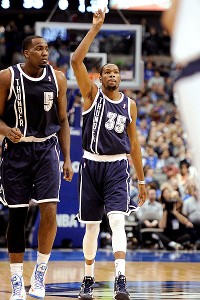 Kevin Durant put up a career-high 52 points Friday night and was at his best down the stretch.
"It's hard to beat anybody when you're playing five-on-eight," Mavs small forward Shawn Marion said, a not-so-subtle reference to Durant's 21 free throw attempts, all of which he made. "That's nuts. Some of them were fouls. Some of them were questionable. But it is what it is."
It was far from an efficient performance from the floor by Durant's phenomenal standards. He made only 13 of 31 field goal attempts, hitting a cold spell while the Mavs made their fourth-quarter comeback (2-of-11 from the floor in that frame). But Durant was 8-of-8 in the line in the fourth quarter to allow the Thunder to survive the Mavs' miraculous rally.
"I was upset with myself in the fourth quarter," Durant said after exceeding his previous career high by one point. "I missed so many shots, and I wasn't taking it to the rim. I wasn't putting pressure on the defense, so I was just trying to make up for it in overtime."
And Durant simply took over in overtime. Marion could do nothing but give the three-time NBA scoring champion credit for the last shots Durant hit, a couple of one-legged jumpers he borrowed from Dirk Nowitzki's arsenal. Kevin Durant scored 19 of his career-high 52 points in clutch time against the Mavs (10-10 FT). This season, Durant has a league-best 94 points in clutch time, the last 5 minuntes in the fourth quarter with the score within 5 points.
Durant's game-winning bucket with 16.9 seconds remaining was especially beautiful, the kind of play that causes Mavs coach Rick Carlisle to call Durant "the best offensive player on the planet." Durant caught the ball on the right wing, took two hard dribbles with his left hand, planted his left foot and launched a 12-foot fadeaway over Marion's outstretched hand.
"That's a tough shot," Marion said, noting that Durant is a 7-footer despite his height being listed at 6-foot-9 and has a ridiculous wingspan that makes that shot impossible to block.
Free throws, on the other hand, are extremely easy for Durant. He's the league's third-leading free-throw shooter at 90.6 percent after his perfect 21-attempt performance. Dominique Wilkins' 23-of-23 outing during a 42-point performance in Dec. 1992 is the only occasion in NBA history a player shot more free throws without missing any in game.
That made up for Durant's relative off night from the floor (41.9 percent, more than 10 percent under his norm this season).
"For a guy getting 52, I think this is about as well as you can guard him," Mavericks power forward Nowitzki said. "Obviously, I think we could have kept him off the line on some occasions where we reach in or he gets to the line because he's Kevin Durant. Twenty-one is too much, especially if he shoots them like a layup.
"You can't give a good player 21 free throws. If he keeps seeing the ball go through the basket, at some point he's gonna get hot."
Also On K Soul 94.5: